How Much Does It Cost For A Party Bus?
A Party Bus can range in price based on your needs. Sometimes it's even more effective to get a party bus than a limo, as it seats more passengers. A common rate for party bus is $90 to $250 an hour depending on how many people you plan to bring, pick up and drop off location.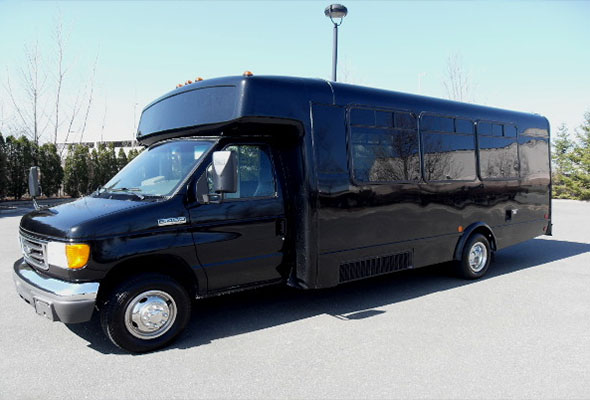 Vehicle Type

Vehicle Passengers

Hourly Rates*

8 Passenger Limo
Up To 8
$20-$35
10 Passenger Limo
Up To 10
$30-$45
15 Passenger Limo
Up To 15
$45-$55
20 Passenger Limo
Up To 20
$65-$85
18 Passenger Party Bus
Up To 18
$85-$100
20 Passenger Party Bus
Up To 20
$100-$120
22 Passenger Party Bus
Up To 22
$120-$140
25 Passenger Party Bus
Up To 25
$140-$120
50 Passenger Charter Bus
Up To 50
$160-$200
56 Passenger Charter Bus
Up To 56
$200-$400
36 Passenger Shuttle Bus
Up To 36
$150-$300
40 Person Shuttle Bus
Up To 40
$150-$300
What is a Party Bus?
You have a couple options when thinking about a party bus, you can get a Party Bus or a Limo. Both types of vehicles are great options as they can seat from (10 people) to large groups (40-50 people). The party bus is very much like a limo, the driver becomes your own personal chauffeur. There is an array of different types of cars to suit your different taste and the mood for your overall event. Pick and choose whatever style, color and feel you want for your car and have a fun time with your friends and loved ones.
How many people fit in a party bus?
When planning to book a party bus, there are many options to seeing what best fits your needs. There is different kinds and different sizes of vehicles such as a Party Bus, Charter Bus, or a Limousine to safely and comfortably transport your group to your event. A normal sized Party Bus can seat anywhere from 12 to 28 passengers. However, a Limousine or SUV is ideal for 6-12 passengers
Where to go on a party bus?
School Events
Weddings
Birthday Parties
Prom
Night Out With the girls.
Bachelor/Bachelorette Party
Corporate Events
Sporting Events